'Harry Potter' actor Matthew Lewis who played the role of Neville Longbottom just tied the knot with his girlfriend Angela Jones in Italy he revealed in an Instagram post.
He shared the wedding picture on Instagram captioned: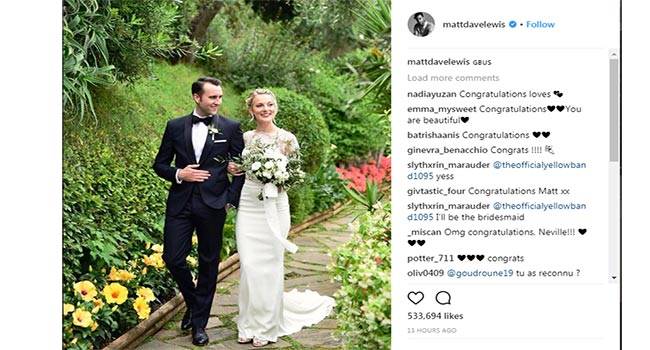 "Not only did I miss @ArcticMonkeys in LA but they were performing in Italy at the same time we were there and my wife made me get married instead. Fuming."
Lewis is pictured wearing a black tuxedo his new bride opted for a figure-hugging wedding gown with a high-necked lace top.
His wife is carrying a huge bouquet of white flowers. The couple is sporting huge grins in the beautiful photograph.
Lewis' wife Angela Jones is an event planner.
They first met in January 2016 at a celebration at the Wizarding World of Harry Potter, where Jones worked. Jones started dating Lewis in July 2016, and after that time they both were "over the moon"-- Jones said to a spokesman.
Lewis has gone on to land roles in 'Me Before You' and Amazon's newest series, 'Ripper Street'.
Matthew Lewis ten years ago:

Ten years ago, Matthew Lewis was cast as the bumbling, plump Hogwarts student Neville Longbottom.
But after going through an awkward teenage phase as he filmed the Harry Potter movies, the actor has grown into a really handsome young man.
Looking back at the first Harry Potter film in 2001, we can clearly see that the clumsy and chubby Neville grew up to be a total heartthrob.
Matthew Lewis now:

Now every inch of Lewis looks like a Hollywood hunk in his sharp black
wedding suit
.
To play Hogwarts' student Neville in the eight films, Lewis wore yellow false teeth, shoes two sizes too big and wore prosthetics behind his ears to make them stick out more.
In a recent interview, he admitted when he auditioned for Potter a decade ago, he was hoping to win a walk-on, background role and never imagined he would end up as Neville.
In an interview reflecting on his character's journey, he said: "Jo Rowling did such a beautiful thing with the character to have him come from a shy, bumbling little boy that was bullied and terrified of his shadow to make him into this hero, this saviour of the wizarding world."
"It's so inspiring. I'm so proud and humbled to be allowed to play that for so long," he added.