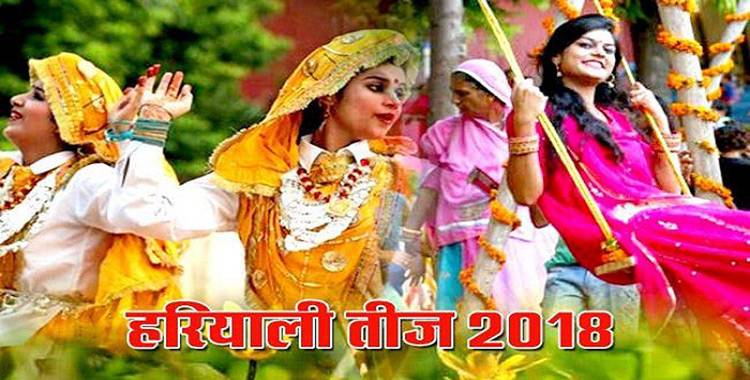 Hariyali Teej is celebrated on the 'tritiya' or 3rd day of the Shukla Paksha, which is the monsoon festival, celebrated in the northern states of India --, especially in Uttar Pradesh, Bihar, Jharkhand, Madhya Pradesh and Rajasthan.
The festival falls on the third day of the first fortnight of the Hindu month of Shravan and usually two days before Nag Panchami.
Why is Hariyali Teej is celebrated?

Hariyali Teej festival is mainly celebrated by married women in honour of Goddess Parvati and during this is on, one has to fast for three continuous days.
As per Hindu mythology, Hariyali Teej festival is a special day for Hindus as, this day, incarnation of Goddess Parvati was abducted by her friends to stop her marriage with Lord Vishnu.
But at the ultimate end, she was married to Lord Shiva.
How is Hariyali Teej is celebrated?

Hariyali Teej has great significance. On this day, married women observe a fast to seek the long life and wellness of their husbands
At the same time,unmarried women observe a fast to get a husband like Lord Shiva.
Mythological significance of this festival

After the fast austere for many years, Goddess Parvati was accepted by Lord Shiva as his wife, on the day that Teej falls.
There is a story that Parvati prayed and took 108 rebirths to be Lord Shiva's wife and for this, Goddess Parvati is also known as Teej Mata.
The union of Lord Shiva and Parvati took place on the third day of Shukla Paksha.
How women's celebrate Hariyali Teej

Married women on Hariyali Teej clad themselves in green clothes, wear green bangles and adorn their hands with henna.
They do a special puja (prayer) to worship the moon with milk, flowers, and curd.
Religious songs and hymns are chanted.
The celebration also comprises dancing and singing.
3 symbolic Teejs in Shravan

There are three Teejs celebrated by women in the holy month of Shravan and Bhadrapada, which include the following:
Hariyali Teej (August 13)
Kajari Teej (August 29)
Hartalika Teej (September 12)
These three Teejs falls in the month of Shravan and Bhadrapada which makes them more special. Other Teejs celebrated are Akha Teej -- , also known as Akshaya Tritiya--, and Gangaur Tritiya.