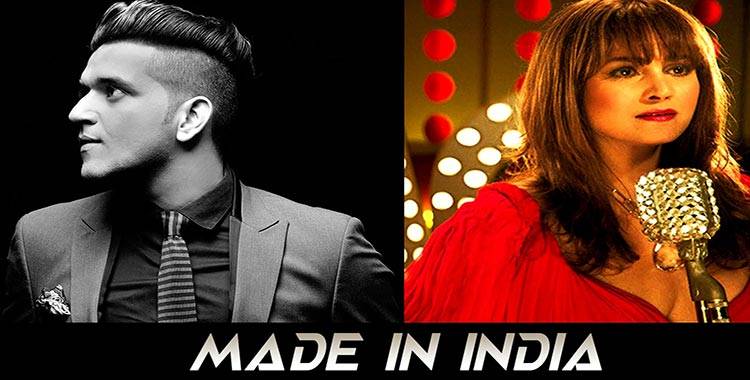 While both Alisha Chinai's and Guri Randhawa's versions speak about the beauty of Indians, the 1995 'Made in India' was the first Indian pop (Indipop) an album that sold a reported three million copies.
But after 23 years, Guru Randhawa, one of India's top Punjabi music artists, is back with yet another single titled 'Made in India' which released June 5 and has already crossed 32 million views. This version is close to breaking the 35million YouTube views of Chinai's song but the former version will remain evergreen.
The 1995 song by Chinai emphasised on the Indianess of the soul -- irrespective of looks, colour and wealth, but Randhawa's Made in India mainly focuses on the physical appearance of a woman and how she "looks" Indian.
Where Randhawa speaks about her decked in branded clothes, Alisha speaks about "Tan gora ho ya kaala, par ho sachcha dilwaala." – this means that Chinai doesn't care about the skin colour of the man she is looking for, but he needed to be pure from the heart. He needs to have a Hindustani's heart and not an Englishtani; heart, she sings.
The fact that Chinai was speaking against skin colour priority way back in 1995 says a lot about how progressive the song really was.
Randhawa, on the other hand, sings about how the woman's Indian looks, unique smile and flirting skills make all men around her fall head over heels over her, including the singer himself.
On the other hand, Alisha Chinai sings "Kaisi hai yaar ameeri, kaisi dildaar gareebi", pointing out that no matter how much money you have, those who are generous from the heart are the actual wealthy people.
She repeats in the song that she has roamed around the world and seen men from various countries, but her heart wants someone who is an Indian on the inside -- reflecting the country's culture and values, who can love her forever.
A song which speaks about independent women proudly speaking up about the kind of man they want was also something new at the time.
Guru Randhawa's 2018 'Made in India' song says that the woman's clothes look branded and asks her how many hearts she has broken.
The focus of the song is winning over a woman who didn't seem really interested in the singer in the first place, and his priority of the woman's physical beauty rather than what's in her heart shows that the song is just another among the many popular Indian songs on wooing beautiful women.
MADE IN INDIA (1995)

Alisha Chinai's Made in India was released in 1995


Alisha received the International Billboard Award after 'Made in India' was released, and also won the Freddie Mercury Award for Artistic Excellence.
Made in India went on to become one of the highest selling pop albums of its time and Alisha became a household name. The album's title song was not only a hit in India but across the international market as well.
This song made Alisha a central figure of the emergence of Indipop, and the song became the first non-film album to break unit sales records in India.
Even now, the 90s kids remember this song by heart and can sing the whole number flawlessly.
Made in India (2018)

After 23 years Guru Randhawa has released an Made in India Album


Guru Randhawa is on the Billboards of Top 25 and has had many successful tracks.
He composed and wrote 'Made in India' which was shot in Milan with Elnaaz Norouzi and directed by Directorgifty. It is a T-Series production. His other chartbusters are 'Lahore' and 'High Rated Gabru'.
Only time will tell whether the 2018 'Made in India' will take over 1995 Indipop song. So, let's give it some time and wait for the audience response..