Taimur Ali Khan is one of the most talked about star kids of Bollywood. We got a glimpse of Taimur moments after he was born last year. The Pataudi's and Kapoor's celebrated his first birthday on December 20. It was an intimate family affair but a grand one.
Taimur was dressed like a little Nawab, his cake was a cute jungle cake decked with animals and the location was Pataudi Palace. The event was made special with the presence of Karisma Kapoor, Sharmila Tagore, Randhir Kapoor, Babita, Amrita Arora, Kiaan, Samaira and others.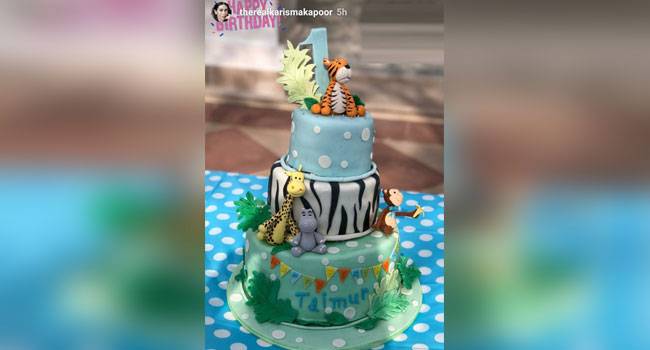 The palatial estate looked regal with the beautiful decorations and Karisma shared glimpse of the family members relaxing in the back lawns. The family was seen taking tractor rides and relaxing by a nice bonfire in the evening.
These were some of the details of the gala celebrations. It was such a special day and the first birthday of little Taimur which calls for a special gift. He did receive a very special and unusual gift. Kareena Kapoor Khan's nutritionist, Rujuta Diwekar, gifted Taimur a forest to Taimur.
Considering the fact that Earth's air is becoming more and more difficult to breathe as the years pass and pollution grows, a forest is a priceless acquisition especially after a couple of decades when Taimur is older. It is a very thoughtful gift and should serve as an example for others to follow.
Rujuta Diwekar, who became popular for Kareena's size-zero body, is known for stressing the importance of a healthy and balanced diet. Kareena's fit body and glowing skin makes it quite evident. Moreover, her gift to Taimur Ali Khan proves her love for nature and hints that she inspires others to rely on it.
Here is the lovely caption that she wrote for the forest named after Taimur:
"A little forest for Taimur, A little boy can never have enough of birds, bees and butterflies and so we have put together a small forest as a birthday gift for the little big boy, Taimur, in Sonave.
It's a special forest, one that thrives on intercropping and I hope that as he grows he too will thrive in and celebrate a diverse society -- society where people live together through and due to their distinctions.
The forest has about 100 trees on a 1000 sq ft plot. The trees are as young as Taimur, even younger actually, and each one of them is a local, native, climate resilient specie. It will be a forest of the super foods of the future. There are 3 jamuns, 1 jackfruit, 1 amla, 40 Bananas, 14 Moringas, 1 Kokum, 1 Papaya, 5 Seetaphal, 2 Ramphals, 2 Nimbu trees. Besides these, it grows three different types of native pulses and many green chilli, ginger, turmeric and curry leaves plants, not to mention the green leafy veggies and the genda phools that grow in between.
The forest is inspired by Padma Shri Subhash Palekar's zero budget natural farming where one tree grows symbiotically off another and thus, is thrifty on one's pocket. The forest will become a home for pollinating agents like the butterflies, bees, birds and earthworms. It will help nurture the soil, fix back the nitrogen and minerals in the soil that it grows on, preserve the water table and look elegant and beautiful while doing it all. Here's to living sustainably! Happy Birthday. #taimuralikhan"
Birthdays should be celebrated thoughtfully and such birthday gifts will have lots of positive impact in the life of the receiver and the environment at large. Now, we can expect Taimur to rely on organic food from his own forest and retain his angelic glow forever. Be ready, we have a fit, handsome and beautiful star in making!One of the most adorable Bollywood Celebrity Kids is taking tiny steps towards stardom.
Image courtesy: Instagram