During pregnancy, women need to take special care of their health. Yoga here can prove to be really helpful as it soothe mind and body.

This is the time when women have to deal with mood swings and hunger pangs. They get easily fatigued and feel pukish at times. Altogether in this tough time pregnancy yoga can be of major help.

Even former Miss Universe and actress, Lara Dutta who is now the proud mother of a baby girl practiced pre-natal yoga under the expertise of Tonia Clarke. This explains the role and importance practicing yoga in pregnancy, which is fast developing as a fitness trend among would-be mothers.

First let us find out how can yoga for pregnancy help, would-be mothers to happily welcome motherhood.

Health benefit of yoga postures for pregnant ladies:

1. Helps in easy labour: Trying yoga during pregnancy is a brilliant way to prepare a woman's body and mind for childbirth. Physical exercise, meditation as well as relaxation is a wonderful idea for both maternal and foetal health. Yoga improves muscle strength and flexibility which is beneficial for labor.

2. Reduces pain: Pre-natal yoga improves breathing, helps in stretching of muscles and boosting blood circulation. Therefore yoga helps to reduce aches and pains which is a part of advanced pregnancy.

3. Helps in proper sleep: It is very important for pregnant women to catch proper sleep. There are certain restricted positions in which the would-be mother can rest and many find it difficult to fall asleep. Yoga can not only reduce stress, anxiety, and pain associated with pregnancy, it also improves the quality of sleep and rest during pregnancy.

4. Yoga can calm your nerves: A pregnant woman should avoid any kind of emotional turmoil as it will be felt by the baby too. Yoga is the only solution to keep you peaceful and keep your nerves calm even in stressful situations.

Yoga postures and deep breathing exercises can keep the nervous system calm and helps you to maintain a relaxed mind. The calm nervous system also helps in digestion, helps you sleep better and maintains good immunity, all of which help keep the mother and the baby healthy.

5. Improve blood circulation: Yoga improves the blood circulation in the body as it involves a lot of stretching. Improved blood circulation improves our immunity and it increases the stamina as the body receives the optimal doses of oxygen. It is very important for the well-being of both mother and the baby.

Here are some effective yoga postures for pregnant ladies:

1. Vakrasana or the Twisted pose:
In this yoga posture, you need to sit upright with feet stretched in front.
Take a deep breath and raise your arm up to your shoulder with palms facing down.
Next you exhale and twist your body from your waist towards your right. Move your hands and head to the same side.
After this, inhale and come back to your original position and repeat the same on the other side.
This pre-natal yoga helps you exercise your spine, hands, legs, neck and gives a gentle massage to your abdominal organs.

2. Bhadrasana (Butterfly pose)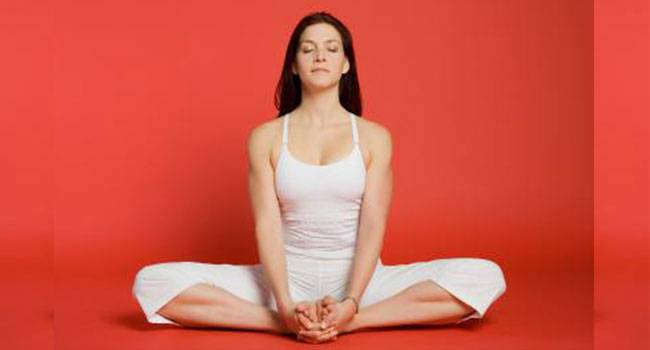 Sit with your back straight. And stretch your legs fully.

Now fold your feet and form 'Namaste' meaning join both the foot keeping them in contact with the mat (see the picture).

Sit straight with your hands on knees or thighs. Hold the position as long as you are comfortable.

You can release and repeat again.

This exercise strengthens inner thighs and pelvic region.

3. Utkatasana (Chair Pose)
For this exercise, stand straight and keep your feet parallel to each other.

Inhale for 2 seconds and raise yourself on heels and keep your arms up.

Hold yourself for a while and exhale slowly while sitting in squat position on your toes. If you feel uncomfortable standing on your toes, then stand normally with your feet flat on the ground.

Again inhale and stand up on your toes and then release.

This yoga posture strengthens the thigh and pelvic muscles and is helpful during pregnancy.

4. Konasana (Angle Pose)
For this yoga posture you have to stand straight keeping your feet 24 inches apart.

Raise your right hand up and see that your elbow is straight.

Stretch yourself upward as you inhale and bend sideward towards your left.

Now exhale and come back. Keep your hand down and relax.

This yogasana maintains the flexibility of waist and keeps the fat in the waist region under control. It is very important to maintain your waist during pregnancy and do this yoga with the support of the wall.

5. Viparita Karani (Legs-up-the-Wall Pose)
For this asana, sit close to a wall.

Lie facing towards the ceiling and raise your legs with the wall support.

Lift yourself up to the hips.

Place your hands on your tummy and relax.

Pregnant woman doesn't feel like lying straight on their back all the time. This is one of the easy and relaxing yoga postures which relieve swelling and soreness. This asana provides overall relief.

Staying active during pregnancy is beneficial for both the mother and the child. But if your doctor has told to stay under complete bed rest then do not try yoga in pregnancy. You can do certain breathing exercises, lying straight and can try meditation. Make sure that you follow a simple yoga routine with the consultation of your doctor depending upon the condition of your pregnancy.