WHO (World Health Organisation) recognises October 10 as World Mental Health Day and it is celebrated every year with the main purpose is to raise awareness about mental health.

In a recent study, WHO has taken out an estimate which shows that the global economy suffers a loss of 1 trillion USD each year due to lost productivity owing to depression and anxiety disorders.

The theme for World Mental Health Day 2017 is 'workplace'. It mainly focuses on the work environment as a cause of mental suffering. The work culture also suffers due to mental problems.

The healthcare firm DocsApp on Monday said it has introduced mental health care as part of the sick leaves given to the employees.
DocsApp, a mobile app that allows users to reach out to specialist doctors, will be giving a 'Stress Day Off' to its team so employees can pay attention to their mental well being, a company statement said.

"We automatically associate 'sick leave' with someone being physically ill. However, we never associate a person being sick to a mental health issue," CEO Satish Kannan said in the statement.
"Lack of awareness about mental health issues has hindered people from seeking help from a specialist. We need to educate people and ensure they understand that mental health issues have to be treated, and a specialist has to be consulted for a treatment," he added.

The new leave helps in letting the employees stay productive while taking care of their mental health, the company said.

In 2014, a study conducted by WHO showed that India is among the leading countries whose citizens are battling depression and anxiety. After three years the picture is quite the same.

Hence it is high time that we should pay attention to our mental health. We must not indulge ourselves in the rat race and suffer the same fate as those rats mentioned in the "Pied Piper Of Hamelin".

Here are some Yoga postures that can help you to cope with stress and anxiety:

Practicing yoga regularly helps a person to remain calm and relaxed in daily life. This calmness can help you to face everything without getting restless. Hence, it can provide you relief and relaxation, and keeps you mentally fit.

1. Garudasana (The Eagle Pose):
In this particular yoga posture, you need to focus your mind on a single point and then concentrate. You have to twist one foot and arm around the other and balance yourself by bending a little. It helps to free the tensed muscles in the shoulders and hips, which are common spots for emotional tension to accumulate. This is an excellent way to release stress.

2. Balasana (Child's Pose):
In this asana, sit back over the heels and put your hands out in front of you. Slowly fold your torso forward until your forehead rests on the mat. Our everyday pressure stresses our adrenalin glands. Balasana soothes the adrenal glands and is very relaxing.

3. Vajrasana (Thunderbolt Pose):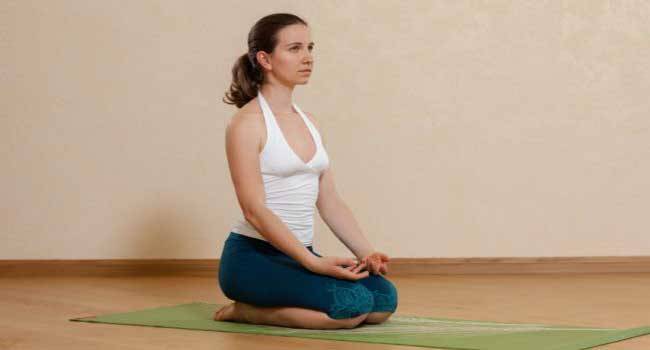 Sit back on the heels, keep your back straight and cross the hands in front of the chest and hold the palms below your underarms. Then concentrate on your breathing and witness the calming effect. This asana is also great for the digestive system which is severely affected by anxiety.

4. Uttanasana (Standing Forward Fold):
For this pose, you have to bend the knees, hold the core, and bend forward from the hips and place the hands in front of or alongside your feet.

Uttanasana is good for relaxing our brain, balancing the nervous system and gives you peace of mind. It is very important in order to maintain our energy levels. Uttasana helps in balancing the sacral chakra which when over-stimulated, results in the fluctuation and excessive flow of emotional energy.

5. Viparita Karani (Legs Up The Wall Pose):
Our work demands long hours of sitting or moving around which stresses our back. This yoga asana is great for relieving lower back pain and easing anxiety symptoms. There are several other benefits which relieve arthritis discomfort, menstrual cramping, reducing insomnia and lowering high blood pressure.

We need to acknowledge the fact that our mental health needs serious attention. On World Mental Health Day 2017 we must take a pledge that we will not neglect our mental health and focus on breathing exercises and yoga to keep ourselves rejuvenated. If followed religiously, our regular practice will increase our productivity and ease our lives further. A little effort can help to check depression .
With Inputs From IANS