Most of the girls dream for perfect legs! And, this dream is achieved by some who work hard to improve their looks. Are you jealous of those girls who wear spandex shorts or celebrities who have toned legs? Well, there are people who are just born with great legs, but there are plenty of people who work hard and improve the shape of their legs.
All of us have some complicated areas in our bodies.By having a perfect diet and doing regular exercise, you can get those sexy, sleek legs to flaunt. Here are seven smart ways that can help you get rid of excess leg fat and get toned legs:
1. Do regular exercise

Exercises like running, jogging, cycling or brisk walk, can help you to a great extent!A workout is necessary; cardio will help you more than any exercise. It will help you immensely in losing lower body weight. Even running, jogging, cycling or brisk walk, can help you to a great extent.
Even skipping is also a great way to tone up your legs.
2. Start your day with a detox drink

Replace coffee and tea with detox drinksMost people start their day with a cup of coffee, tea or lukewarm water, don't do that. Instead make a new habit of starting your day with a detox drink either amla water, jeera water, saunf water or just a healthy vegetable smoothie.
3. Your Meals

Your meal timings effects your health to a large extent!Eating too much or eating too less altogether both are bad for your thighs. Have a proper eating schedule and eat smaller meals to allow your body to digest and distribute energy.
It will keep you energetic throughout the day.
4. Cut your salt intake

More salt, the more water your body will retain!You are always concerned about your sugar intake but don't forget that salt is an equal sinner. It's a fact--the more salt you eat, the more water your body will retain. So as per doctor's advice cut down your salt intake, you will immediately notice a big difference in your body.
It's not only about talking salt directly it's about the excess salt that makes way into your body through ketchup, canned vegetables, pickles etc.
5. Count the carbs

Always go for low carb, it makes your body feels light !Low-carb is a key to weight loss! Low carbs is a big diet trend this year and people actually saw positive results. Always remember, the more carbs you eat, the more your body will store water in your muscle as well as liver.
A minimum amount of carbs is required for the body to function normally. So, every time you go for low carb, your body feels light because it loses water weight.
Keep a track of the carbs that you consume daily. It will also give you a fair idea on how much carbs you should eat every day and how much you are actually consuming.
6. Consume low calories

You need to burn more calories than you consume, so it's good to consume less!A healthy diet is a key factor in losing weight! Hence, when your diet is concerned, you need to burn more calories than you consume. So, a low-calorie diet with low-calorie food is recommended, which restricts your daily intake of calories to 1200-1500 calories.
With some hard work and determination, you can successfully get thinner thighs.
7. Take sufficient amount of water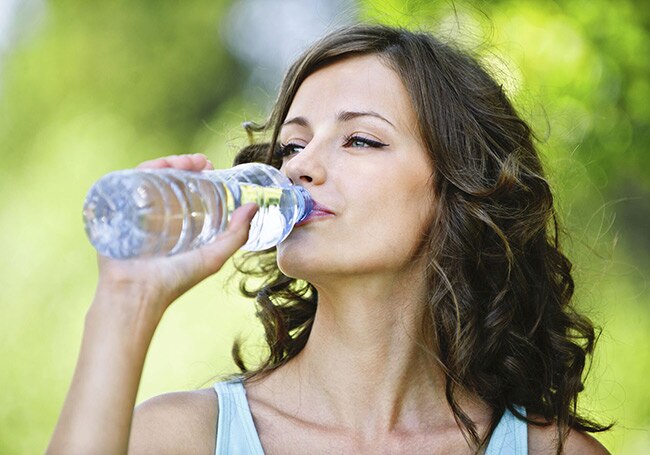 Watch out for your water intake!You need to keep your body hydrated without saying. Excess intake of water will flush out excess salt from your body. The less water you have, the more your body tries to store it in the body.
Watch your water intake, as both excessive and less amount of water is harmful.