Winter season is all about shorter days and colder weather. In winter, often have series of events like family dinners, holiday parties, and the preparation and planning for gift giving. It basically distracts our motivation to stay healthy and fit. Often, we experience a lull and our exercise is sacrificed for warm nights spent indoors on the couch.
Some people even begin to experience depression or feelings of anxiousness over expenses that accumulated throughout the holidays. Recognizing safety risks and patterns of illness or low energy ahead of time is key to preventing them — Kama Ayurveda in-house Ayurveda doctor Natasha Sharma too, has some inputs to share.
There are countless winter wellness tips and ideas available to ensure you have lots of ways to stay healthy, fit. Follow these healthy habits tohelp you boost your energy level:
1. For glowing skin:

The festive season is all about change of routine and food habits. Our body does react to all these changes in various ways like disturbance in our digestive system, hair fall, dryness of skin etc. It is imperative to cleanse the body, during and post the festive seasonto have fresh, glowing skin throughout the festive season.
2. Hydrate well:

Water is extremely essential for every cell that makes up our body. It supports thebody's digestion and eliminates toxins on a daily basis. Skin is the biggest organ of the body and is mostly made up of water which serves to keepthe skin smooth, elastic and wrinkle free. Drinking plenty of water will naturally flush out toxins, giving you a healthier glow.
You must include two cups of green tea and coconut water in your daily regime. Regular consumption of these will help you in getting glowing and soft skin as it would eradicate toxins from your body, replacing it with healthy minerals and vitamins.
3. Cut your salt and caffeine intake:

Most of the festival food is oily, sweet or salty. Excessive salt may cause water retention which may lead to development of bags beneath your eyes. Skin can become dry or oily, as skin overproduces oils to compensate for dehydration -- this can lead to skin breakouts. So one must refrain from adding salt on fruits, salads or curd.
Similarly coffee is highly acidic, high doses of acidic caffeine mess with your hormones, namely your stress hormones which control your skin's oil production. On top of that, it can act as a diuretic, dehydrating your skin if you drink too much. Limit your coffee intake to 1 cup a day or leave it in case you have acne prone skin.
4. Increase your fruit intake:

A cup of fruit juice a day is sure to guarantee a clear complexion as fruits hydrate and rejuvenate your skin.
5. Abhyangam or oil application: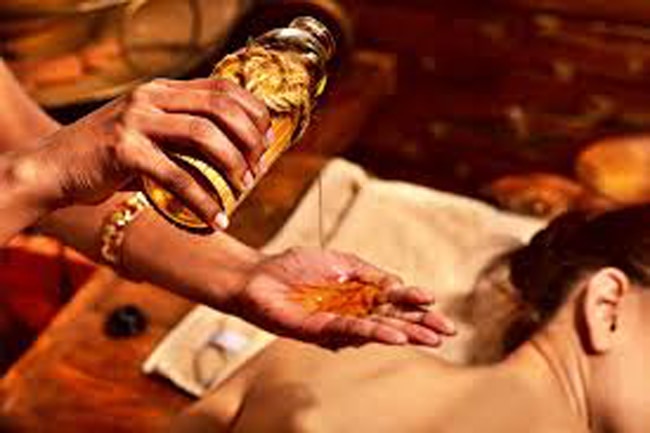 Body massage improves circulation of blood and sends the toxins out of the body through various routes like skin, kidney etc. It is nourishing, relieves fatigue, provides stamina, perfect sleep, enhances the complexion and brightens up the skin, promoting longevity.
6. Use Ayurvedic botanicals for glowing skin:

Use ingredients like turmeric, saffron and rose to brighten and tone your skin. Face packs with turmeric and sandalwood will help clarify the skin while bringing out it's natural glow. Serums with Saffron in them will give you radiant, younger looking skin.