Dandruff is a common problem during winter! This problem is not restricted to the scalp alone, even the skin on the face and the body is prone to dandruff. As per the researches, Malassezia is a fungus responsible for causing dandruff.
Certain weather conditions do facilitate the growth of dandruff, mostly the winter season. In winter dandruff has the tendency to stay and come back again and again despite proper treatment. There are many medicines and home remedies available to take care of dreaded dandruff. In order to prevent this growth of the cells nothing can be more convenient than using neem!
Neem is the best remedy for dandruff, it contains antimicrobial elements which is effectively known to be an antifungal, antiviral, and anti-inflammatory.
Here's how to use neem to get rid of dandruff in winters:

1. Chew the neem leaves to get rid of dandruff:

According to beauty experts, the easiest way to get rid of dandruff is to chew the neem leaves As per the beauty experts, you can easily get rid of dandruff by chewing the neem leaves every morning. You may need some motivation before consuming the bitter raw neem leaves. So better mix them with honey or make a decoction by boiling neem leaves and drink the strained water.
2.Boiled neem leaves to get rid of dandruff: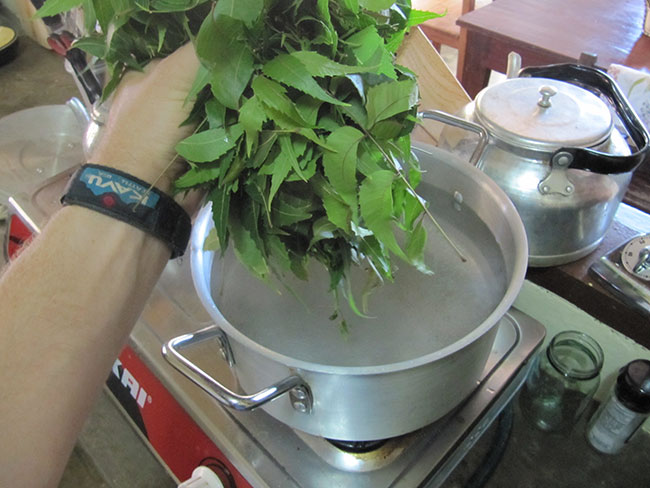 Wash your hairs with boiled neem water, you will feel the difference that dandruff is reduced from your hairsDrinking boiled neem water is a popular remedy that is easy to make and is extremely effective as well. For this, you need to take around 40 neem leaves, boil those in at least 1 litre of water. This Boiled neem water will immediately reduce the itchiness and discomfort caused by dandruff.
Steps:

First, boil the water and let it cool at room temperature-After that add the neem leaves to the water and allow it to rest overnight
Rinse your hair thoroughly with this water and see the result
Use this remedy twice or thrice in a week to get rid of the problem completely.
3. Neem oil to get rid of dandruff:

Use neem oil or neem oil shampoo for treating dandruff Neem oil can be used to treat dandruff. Neem oil is made from the seeds of the neem tree this can also be easily created at home by adding a few neem leaves to coconut oil. It eliminates the flaking on the scalp easily.
Steps:
Fist heat the coconut oil
After that add the neem oil to it
Gently apply it on the scalp
Leave it overnight
Wash it off on next day
Try this remedy twice or thrice a week for best results.
4. Neem leaf hair pack to get rid of dandruff:

A paste of neem leaves does wonders in fighting dandruffA neem hair pack is another great technique to combat dandruff. Preparing a neem pack is a very easy task.
Steps:
Take around 40 leaves
Boil the water and add the neem leaves
Strain the water and remove the leaves
Use the water to rinse your hair
Make a paste of the leaves
Apply this paste on your scalp and let it sit for 30 mins
Then rinse it off
Try this remedy at least once a week and you will notice dandruff has finally reduced in no time.
5.Neem and curd to get rid of dandruff:
Neem when combined with the soothing and cool effect of curd does wonders in fighting dandruffNeem and curd is the ideal way to combat dandruff. The anti-fungal properties of neem when combined with curd gives a soothing and cool effect--does wonders in fighting dandruff.
Yoghurt works as a great conditioner for your hair and helps you in preventing the dryness that neem can cause.
Steps:
Make a paste of neem leaves
After that add curd to the paste
Apply the paste all over your scalp and let it sit for 30 minutes
After that risen it off
Use this mask twice a week for best results.
Neem contains an antifungal and antiviral property that helps in fighting dandruff. Other than this home remedy, keeping your scalp clean, eating a balanced diet, exercising daily, drinking plenty of water, and avoiding stress also helps in preventing dandruff.