KJo is one the most stylish people we know of in the Bollywood industry. And what's more, he is the son of one of the country's most successful directors ever.
He wears the best clothes and is considered to be Bollywood's best-dressed man.If you don't believe this then you really need to check out the romantic filmmaker Instagram account because it's flowing with stylish looks we never thought any man will be able to pull off.
KJo's dapper looks
And this change in his look is making his fans surprised. Not only will these outfits give your dressing sense a run for its money, but send your wallet for one too!
Actually, there might a chance that you may not agree to it, not everyone agrees with his sense of style and aesthetic, but the thing that everyone will definitely agree with, is that he wears the most expensive clothes.
Have a look at 5 of the mind-blowing outfits KJo pulled off:
KJo in Dolce and Gabbana men's black velvet royal cat bomber jacket

This idiosyncratic jacket from Dolce and Gabbana featuring a military cat isn't only a statement piece.
So are you ready for the blast? Well, this jacket costs INR 1,10,898/-
Karan Johar's in red & yellow Valentino camouflage jacket

This Camo jacket from Maison Valentino costs 'only' INR 1,21,000/-


Camo-ohh! One of the most expensive brands and ahead of everybody else's dressing style – this jacket is too cool for you.
This sunset colour-themed Camo jacket from Maison Valentino costs 'only' INR 1,21,000/-
Balenciaga Oversized Logo-Print Striped Polo Shirt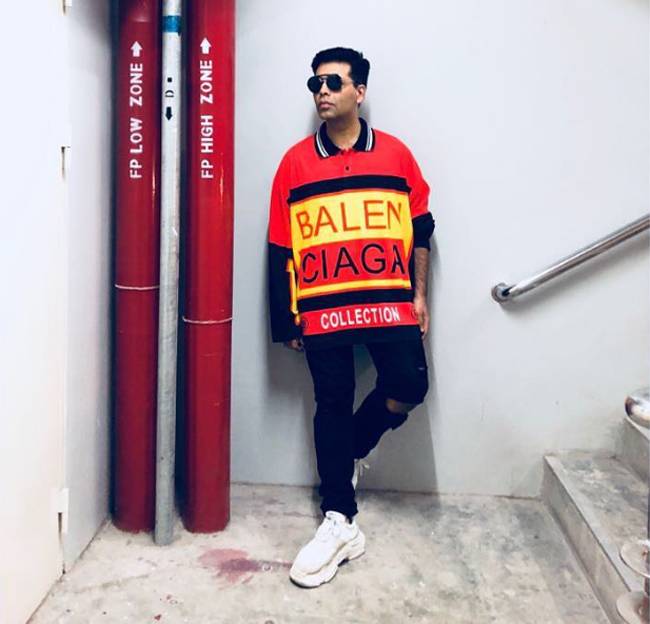 This jacket costs only INR 71,255/-


Looking straight out of a grungy colour-blocked poster from the '90s, this logo print oversized T-shirt from Balenciaga made us ogle at KJo more than ever.
This jacket perfectly fits on with 'high fashion' street-style club. Oh, it's not too expensive either - costs only INR 71,255/-. Do you have a hole in your purse yet?
KJo as super-cool dude in Junya Watanabe Duck Cotton Jacket

This Junya Watanabe Duck Cotton Jacket costs INR 1,12,173/-


Ohh yes, another one of Karan's super-expensive jackets does look like he played Holi in it, but it's so aesthetically appealing!
It costs INR 1,12,173/- He doesn't talk below a lakh of rupees for his jackets, guys, you should know this by now!
Libertine Space Writing Flight Jacket

This deadly expensive jackets costs INR 1,37,280.


This super statement-making jacket that does complete justice to Karan Johar's Wardrobe, is setting him apart from the lot as usual.
This deadly expensive jacket costs INR 1,37,280.