Rekha and her love for kanjeevaram saris is never-ending. Recently, Rekha with her another sighting signature look made her appearance in Deepika and Ranveer's reception party, she looked more elegant and beautiful as every other time.
Rakha draped a beige-gold and purple kanjeevaram silk sari. Rakha with sari sported a full-sleeved, high-neck blouse.
Take a look and wait for her pallu: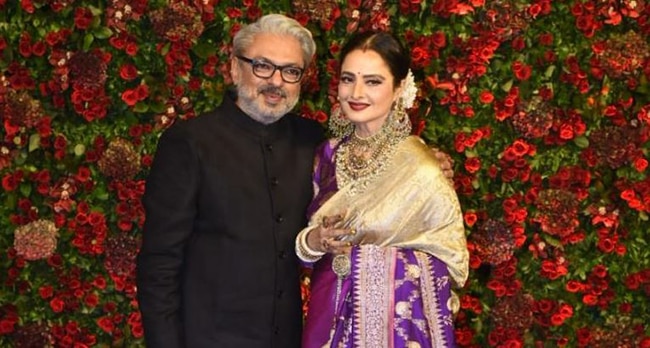 Rekha with Sanjay Leela Bhansali
The pallu of that sari was the highlight of the outfit as it put on show the intricate purple and golden combination of pallu that ran through the length of the six-yard was breathtaking. She teamed her whole attire with two heavy-duty necklaces with matched earrings, she also wore a stack of thick bangles, coupled with rings and perfectly manicured nails.
The thick liner, heavy mascara and beautiful eyelashes kept her face dewy. Her forehead and cheeks were reflecting her inner, ageless glow. Her bright red lipstick has become a statement.
The gajra-mounted bun and the fierce sindoor completed her look. And, she carried a matching potli which she always does with most of her looks.
Take a look at the pallu:

The pallu of that sari was the highlight of the outfit
Rakha can be called a slayer because she knows how to stop presses, age no bar. The legendary actress was shining high like a molten metal, she is the living proof of slaying solo.