The countdown has begun! And we are ready to say goodbye to the year that was 2018. December has put us all in a party mood. You must be contemplating over the outfits you would like to wear to the New Year night. Plus, there are not only shoes to decide, but accessories too!
So be ready to walk like a queen in the New Year party with absolutely perfect ensemble. Picking out some of that celebratory modern jewellery that would complement your look perfectly is not as hard as you might think. And if you are still in doubt what to wear and what not, don't worry, we have decided to help you with some real classy jewellery pieces to be the star of the party!
Take a look at some options that will help you pick and decide the right kind of modern jewellery which will look perfect with your outfit for the New Year party:
Choker:

Chokers or choker necklaces are strongly in trend this season. The jewellery goes well with both Indian and western looks. People have been seen preferring these most for parties and weddings. It looks perfect to wear with off-shoulder tops or deep neck top/dresses. Also, the jewellery is available in vast variety of designs to make a style statement.
Bracelet:

A fancy accessory around the wrist gives very feminine vibe and goes well with gowns and dresses for parties. Diamond bracelets looks classic with party attires and never go out of fashion. Delicate or dainty bracelets are the 'go-to accessories' and comfortable to wear in your daily routine and turn your boring outfit into a glamour ensemble.
Stackable rings: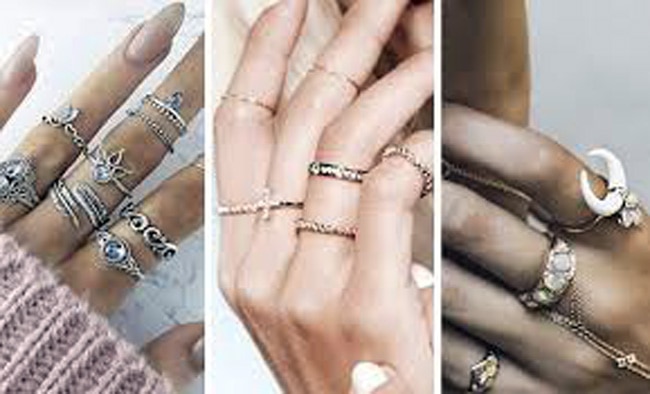 One jewellery trend that has never gone out of fashion is stackable rings. Light-weight and fascinating rings are an ideal choice to set the tone for every occasion. Elegant stackable rings allow the wearer to express their personality or match their mood thanks to the infinite varieties of colours. Rings that can be worn in many different ways become the ultimate dream for women who loves experimenting their jewellery. It will be perfect accessory for any party occasion. They can be teamed up with both western and ethnic looks.
Ear jackets:


The most and all-time favourite is ear jackets. A new-ge trendy pair of ear jackets can turn your otherwise boring outfits into an ultra-modern look. Diamond ear jackets add a surreal charm to your look. The jewellery is available in a vast variety of designs like Trillion Mountain, and Marquise leafy green emerald ear jackets that can help you make a style statement.
By taking a look at the highs and the lows of the year, these are some suggestion from Rohan Sharma, Managing Director of RK Jewellers South Extension 2 and Prakshi Sharma, Creative head and Designer of Prakshi Fine Jewellery.
Girls, decide what you want, and sweep everyone off the dance floor with modern jewellery trends! It's your time party hard and be the queen of the New Year night!
(Inputs taken from IANS)